If you are getting ready for a summer trip to Michigan or gearing up for your annual pilgrimage to OshKosh AirVenture, I'm about to talk about something you will probably be interested in! For a long time aircraft owners have been paying significant fees for SiriusXM weather products and some have continued to pay those fees even after the FAA started providing ADS-In free to equipped aircraft. Why did aircraft owners continue to pay you might ask? Two primary reasons: One (1) They wanted weather products that ADS-B did not provide such as icing levels, cloud tops, lighting, etc. Two (2) they wanted to be able to see the weather products while still on the ground. Guess what? The FAA has resolved item #1 and is now providing these weather products and Garmin has already released the new software so you can take advantage of these free products so run to your avionics partner and get a situational awareness upgrade in your Garmin equipped aircraft.
Situational Awareness means different things to different pilots based on their mission they fly, and where they fly. For Sparkchasers, situational awareness is anything that heightens the pilots awareness in critical situations. Garmin's new GTN Software does just that. It provides more information and heightens the pilots awareness of weather in the area. What information is being provided is what this blog post is all about. Software version 6.62 for your GTN series navigator provides new information that can make a difference in long flights, or get vertical guidance when flying LNAV approraches. Below I will highlight some of the upgrades you can thank Garmin and the FAA for providing: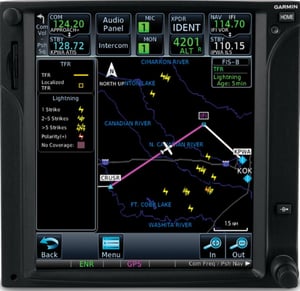 Lighting Strikes , Cloud Tops, Turbulence, Icing, Graphical airmets, and center weather advisory.
Pilots wit

h Siri

usXM Aviation Weather will now

have the option to alternate between base reflectivity

and composite reflectivity NEXRAD weather radar imagery.

If your operating into Airpor

ts not served with SBAS you can now receive advisory vertical guidance while flying LNAV approaches with the GTN650/750.

If weather radar coverage is not available on the GTN 650/750 the words "No Coverage" will be transparent so you can still view airports, basemap information and more.
Sparkchasers recommends upgrading your software no matter what but especially if you have a GTX 345 or GDL 88 installed with a GTN series navigator. Lets be honest, when it comes to situational awareness, you can't get enough of it right ? You won't be upset at all the benefits of this software upgrade and the software is free, but you will have to pay for the labor to perform the software upgrades.