I took my very first trip to an Aldi's grocery store a couple of weeks ago. For years, I have had friends that have sworn by their value and convenience as a grocery store, but I have never taken the time to see for myself. Once I did, it got me thinking about the choices and trades that we all make when it comes to, not only grocery stores, but all things commerce related. Harris Teeter for example, is a completely different shopping experience than Aldi. The store is bigger, the aisles are wider, there is a wide selection of products, not to mention, the beautiful fresh flowers, fruits and vegetable displays, but if you go on a Sunday afternoon, you might have to wait 20 minutes or more at the deli counter before you can get your sliced meat or cheese. Aldi on the other hand is small, you don't see any brand names, you must pay money for a cart, they don't give shopping bags -you bring your own or you carry out your items in your hand. You don't get all the ambiance at Aldi, but you save money and you can be in and out fairly quickly. You are going to pay more at Harris Teeter, but you have more choices. What occurs to me, is Harris Teeter doesn't apologize for being Harris Teeter. They offer what they offer to the market and the consumer decides if Harris Teeter is a good fit for them. If, as a consumer, you are looking for fast and cheap…. Harris Teeter wouldn't be your choice, Aldi would be a better fit.
So, what do grocery store selections have in common with Sparkchasers? Well, actually a lot, it turns out….
If the weather cooperates, Fridays are usually busy days for us and today was no exception. A day for finished aircraft to be picked up…. a day for aircraft starting work the coming week to be dropped off…. A day for phone calls and update emails about those aircraft that just aren't quite done yet, a day for potential customers to just drop in to talk to someone about becoming ADS-B compliant. And in all this activity, what invariably surfaces week after week is the same tension…. the same discussions…the same choices. Speed vs. Cost vs. Quality.
All great companies have decided with their Mission, Vision, Passion and business plan - who they are going to be. Some may have even been guided by the principals of The Project Management Triangle,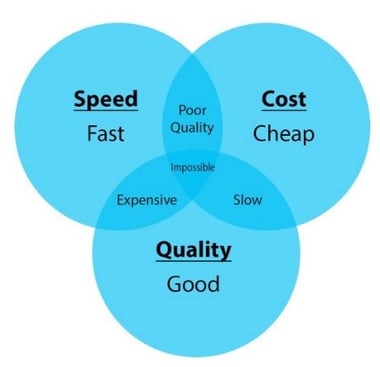 which in its simplest form is the thought that all projects will consist of two of the three characteristics – Fast, Cheap, and Good, but having all three is impossible…. you must pick two. Sparkchasers has decided who we are going to be, what our value add for the market is and it is up to the aircraft owner to decide if we have what they are looking for. We have extremely capable, experienced technicians and mechanics. We have troubleshooting ability and system integration ability that not all shops have. We have auto-pilot expertise that is second to none. All these things and much more give us value in the market.
Make no mistake, we can all get better – we are always striving towards ways to become more efficient, to lower our costs so we can be competitive and superior quality is a given for us – the backbone of all that we do, but we won't apologize for being who we are in the industry. We are proud of what we offer the general aviation community and are fully committed to getting better and better, in all aspects of what we do.
I know that we are not alone in this inevitable tension and honestly, one of the reasons I am looking so forward to the Aircraft Electronics Association Convention at the end of the month is so I can spend sometime with other shop owners and get their best practices on how to navigate this minefield, that at times seems so ready to blow with one misstep.