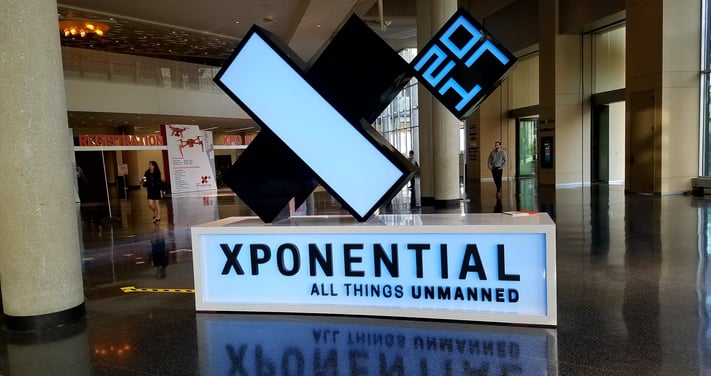 I spent the day at the AUVSI show today in Dallas where we go to explore "all things unmanned." I found this show to be much different than last year's show in New Orleans so I thought I would share my thoughts on Xponential 2017 and the entire UAS industry. These are only the individual thoughts of one little unimportant person (me) and are not meant to upset anyone.
Perhaps the coolest thing I saw today was the Intel drone light show during this morning's keynote address. If you saw the Lady Gaga halftime show during the last Super Bowl then you have an idea of what I am talking about. As if a live demonstration of their Falcon 8+ unmanned aircraft surveying a bridge wasn't enough, Intel brought in their light show drones and did a choreographed light show to the song Light Em Up by Fall Out Boy. If I learned anything from the keynote it's that Intel is in this industry to win it.
There were a lot of companies that were absent in Dallas that I saw exhibiting last year in New Orleans. It's clear to me that this industry is evolving at a rapid pace and that some of early companies have suffered on the bleeding edge. There were, however, some familiar faces from last year that are still chugging along and making progress, and that I was happy to see. Altus Intelligence was here again and were showing off their cool new unmanned helicopter the ORC4, or Shamu as they were calling it. I really liked that product and weighs in just under the 55 pounder rule for the FAA.
Another really cool item that I saw this year was the state sponsored UAS groups like "Maryland Unmanned" and "Fly Ohio." As I noticed their booths I thought to myself 'Wow, the states are even getting involved." I thought it was great for the Department of Aviation to get involved with the UAS industry so early, only to realize the groups were led by the Economic Development and Department of Commerce folks, not the aviation folks. The people is state government who are focused on the economy, jobs, and bringing businesses to their states are the ones leading these groups which I think is another positive sign. I was a little disappointed that my home state of North Carolina had no representation and after a quick internet search I'm sad to say that it doesn't look like we've headed down this road yet.
One thing that was different this year is the emergence of institutional investors on the scene. While there were investors in New Orleans as well, this year I notice three separate instances where institutional investors were either presenting or were on the floor looking at a product and talking with the executive teams from companies. I guess the industry has matured enough now that the wolves are showing up looking for their next meal….or you could say that the sheep dogs are showing up to find a flock to protect if you like that view better. Nevertheless, my guess is that their analysis predicts significant growth in this industry through at least 2021 and they are ready to participate. I think growth is needed soon because so many people have invested in this space, but I'm betting there aren't many that are cash flow positive in the commercial drone space as of today. Don't get me wrong there are good revenue models, but the FAA has been so slow to move and major companies have been slow to get on board with services offered by commercial drone operators. Sure there are a few operators that list every power company east of the Mississippi river as their clients but I'd bet they are not happy with their financial performance and would tell you that they are "betting of the future" of this industry.
We too, at Sparkchasers, are betting on the future of the UAS industry. Jenna and I have been studying this space for several years and believe that it will eventually take off like a rocket. We believe that Sparkchasers can bring value to commercial drone operators or anyone involved in Part 107 operations. We'll most likely mature in this space like a fine wine…slowly, but I'd bet we will eventually be fixing them, testing & inspecting them, and flying them. Only time will tell.